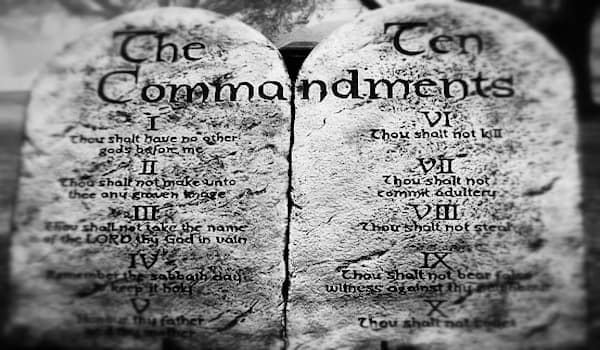 "You are not married to the law and the oldness of the letter, but to the newness of the Spirit." – John Piper
Most people recognize the Ten Commandments. It's typically pictured by stone tablets, or something Moses used to talk about, or strict rules by God for us to follow that of course, no one can perfectly accomplish. They're used as the subject matter for many jokes that go along something like this, "Thou shall not _____." Unfortunately, we often treat them and use them like a checklist to see how we're performing. If we've only broken one or two on any given day, we might consider ourselves doing good.
What does it mean for us Christians today? Do they even matter? How do we apply this?
"Likewise, my brothers, you also have died to the law through the body of Christ, so that you may belong to another, to him who has been raised from the dead, in order that we may bear fruit for God. For while we were living in the flesh, our sinful passions, aroused by the law, were at work in our members to bear fruit for death. But now we are released from the law, having died to that which held us captive, so that we serve in the new way of the Spirit and not in the old way of the written code." – Romans 7:4-6
What This Means For Christians Today
Paul explains in the verses before this of how a woman is bound to her husband while he lives in their marriage. However, if he dies, she is released from the law of marriage (Romans 7:1-3). He is comparing that to how followers of Christ have died to the law (Ten Commandments). He is saying that we live in the new way of the Spirit (Holy Spirit) and not in the old way of the written code. Meaning for followers of Jesus, it's not about our performance or how many items we can check off from our checklist, but rather it's about what Jesus has already done for us on the Cross. Followers of Christ are not under the Ten Commandments because He First Loved Us.
Do They Even Matter?
Most of the time the Ten Commandments are thought of in this "Old Testament ritual" type of way, meaning they are worthless today and there is no point. I would argue there is still a great point for the Law as we have it in the Bible. The reason would be is that we still get to understand the Character of God. We get to understand what is important to Him and what He is against. We get to understand what we should do and what we shouldn't do as followers of Jesus, and most importantly, we get to understand that we will never, ever, be able to fulfill all of them completely. We will never be able to get this right because of sin. They serve as a reminder to us that since we can never get it right, someone had to get it right for us. This is where Jesus comes in.
When God looks at us, He doesn't see us or our sin. Rather, He sees His Son. He sees Jesus who is fully God and who was fully man. Jesus fulfilled this Law. Since God sees Jesus when He looks at us, we are made righteous through Jesus' sacrifice for us on the Cross. The complete law (Ten Commandments) was completely settled by Jesus and nothing can change that.
How We Apply This
So if we believe Jesus paid it all, does that mean we can just sin freely and let grace take care of everything? Paul proclaims we have died to sin, so how can we still live in it (Romans 6:1-3)? We now live in the new Spirit and we are not measured under the Law any longer.
We don't start our day off with a checklist for completing good tasks, but rather we start our day off praying to God and thanking Him for everything He has done for us. We praise Him for sending His Son to die for us and that through Christ, we are free. We strive to be obedient to how the Bible says we should live because of an overwhelming gratitude of what has been done for us.
Can we still read the Ten Commandments and make an effort not to break any of them? Sure. There is nothing wrong with that, however, we can't make that the top priority and the only point. We need to understand that we will indeed break them, but we aren't measured by them. I would encourage you to think first on what Jesus has done for you, and let that be your guide for striving to live a holy and obedient lifestyle.
Let me be clear, do we still keep God's commandments? Yes. "If you love me, you will keep my commandments." (John 14:15). The main point is that while we still keep the commandments, the commandments are not the ultimate thing, Jesus is.
If you are not a follower of Christ, I would encourage you to read through one of the Gospels like the book of John. Becoming a follower of Christ is not about following a set of rules. It's not about performance and you will never be perfect. In fact, I hope you've encountered Christians who admit they in fact will never be perfect, but their need for Jesus grows more and more each day. The best thing I could point you to is the Gospel and how Jesus died for you, personally.
So, are Christians under the Ten Commandments? No. The Bible says we're not under the Law, but under Grace through the finished work of Jesus Christ. While the Law can still be a good thing because we don't want to sin as we follow Jesus, it's not the ultimate thing.
Here are other Frequently Asked Questions and how the Bible answers them.
Question: Do you still live as if you are under the Ten Commandments? Do you believe what Jesus did was enough? Please feel free to comment below.