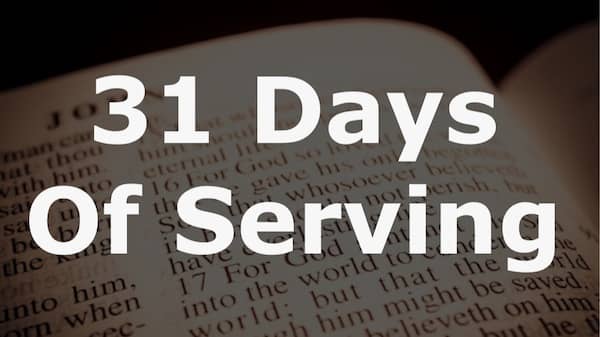 "The Son of Man came not to be served but to serve, and to give His life as a ransom for many." – Matthew 20:28
Jesus is the greatest example we have to follow in regards to serving and loving others. The King of Kings literally served others while He was here on earth, washed the feet of His disciples, and ultimately died on the Cross where He paid the penalty for our past, present, and future sins. After that, He rose from the grave defeating death and sin in Victory.
As the Church, we are called to share the Gospel as we make disciples and serve one another. I would like to encourage you to spend the next 31 days serving others. Let these devotionals guide you day by day along with Scripture to show you different ways you can serve one another. While something like this is for 31 days, don't let that stop you to continue serving afterwards. Consider it a resource to get you started somewhere, and I promise as you read the Word and serve others, the Holy Spirit will lead you and guide you to do that more and more each day.
Let us all remember that the reason we love and serve anyone is because Jesus first loved us and served us (1 John 4:19). Let the Cross be your motivation to serve others, always.
Here are the 31 days of serving. Each day consists of a short devotional along with Scripture relevant to the day. This is also available as a Reading Plan on the YouVersion Bible App and at www.bible.com.
31 Days of Serving
Day 1 – Prefer
Day 2 – Devoted
Day 3 – Same Mind To
Day 4 – Build Up
Day 5 – Accept
Day 6 – Admonish
Day 7 – Sue 'Not'
Day 8 – Care For
Day 9 – Envy 'Not'
Day 10 – Truthful To
Day 11 – Kind To
Day 12 – Subject To
Day 13 – Regard
Day 14 – Lie 'Not' To
Day 15 – Bear With
Day 16 – Teach
Day 17 – Love
Day 18 – Comfort
Day 19 – Encourage
Day 20 – Peace With
Day 21 – Seek Good For
Day 22 – Pray For
Day 23 – Stimulate
Day 24 – Speak 'Not' Against
Day 25 – Complain 'Not'
Day 26 – Confess
Day 27 – Hospitable To
Day 28 – Serve
Day 29 – Humble Toward
Day 30 – Greet
Day 31 – Fellowship With