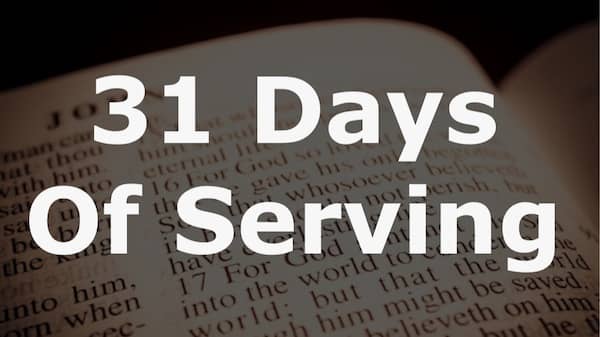 "First of all, then, I urge that supplications, prayers, intercessions, and thanksgivings be made for all people." – 1 Timothy 2:1
One of the greatest untapped resources we have every single day and rarely use it, is prayer. In 1 Timothy, Chapter 2, it starts off first and foremost with prayer. Why do you suppose this? If prayer is mentioned first, then it must be important.
Not only did Christ die on the Cross and rise again to pay the penalty for our sins, but we even get to pray to God! How amazing is that?! We get to approach the throne at any time, in any place.
Let's spend time with Him today, praise Him for everything, and give thanks for the Cross. Every single day we get to be here on earth are God's days and they are full of opportunities to glorify Him. Let us make much of Him!
Today, who can you pray for?
This is also available as a Reading Plan on the YouVersion Bible App and at www.bible.com.
31 Days of Serving
Day 1 – Prefer
Day 2 – Devoted
Day 3 – Same Mind To
Day 4 – Build Up
Day 5 – Accept
Day 6 – Admonish
Day 7 – Sue 'Not'
Day 8 – Care For
Day 9 – Envy 'Not'
Day 10 – Truthful To
Day 11 – Kind To
Day 12 – Subject To
Day 13 – Regard
Day 14 – Lie 'Not' To
Day 15 – Bear With
Day 16 – Teach
Day 17 – Love
Day 18 – Comfort
Day 19 – Encourage
Day 20 – Peace With
Day 21 – Seek Good For
Day 22 – Pray For
Day 23 – Stimulate
Day 24 – Speak 'Not' Against
Day 25 – Complain 'Not'
Day 26 – Confess
Day 27 – Hospitable To
Day 28 – Serve
Day 29 – Humble Toward
Day 30 – Greet
Day 31 – Fellowship With