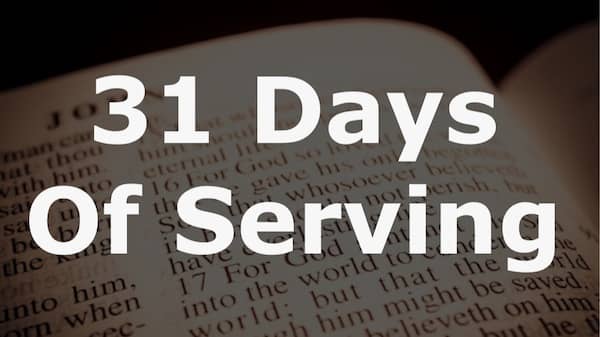 "Love one another with brotherly affection. Outdo one another in showing honor." – Romans 12:10
Who can you be devoted to today? A definition of devoted is to give entirely of yourself to a specific person, that is to devote yourself to someone. As we are reminded in Romans 12:10 to love one another and show honor to one another, let's think about devoting ourselves to someone.
Who can you be devoted to, today?
This is also available as a Reading Plan on the YouVersion Bible App and at www.bible.com.
31 Days of Serving
Day 1 – Prefer
Day 2 – Devoted
Day 3 – Same Mind To
Day 4 – Build Up
Day 5 – Accept
Day 6 – Admonish
Day 7 – Sue 'Not'
Day 8 – Care For
Day 9 – Envy 'Not'
Day 10 – Truthful To
Day 11 – Kind To
Day 12 – Subject To
Day 13 – Regard
Day 14 – Lie 'Not' To
Day 15 – Bear With
Day 16 – Teach
Day 17 – Love
Day 18 – Comfort
Day 19 – Encourage
Day 20 – Peace With
Day 21 – Seek Good For
Day 22 – Pray For
Day 23 – Stimulate
Day 24 – Speak 'Not' Against
Day 25 – Complain 'Not'
Day 26 – Confess
Day 27 – Hospitable To
Day 28 – Serve
Day 29 – Humble Toward
Day 30 – Greet
Day 31 – Fellowship With