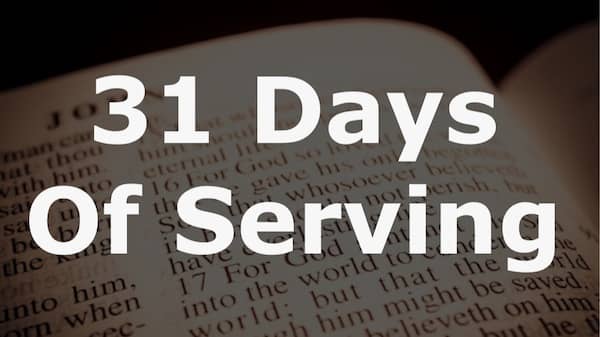 "…and to esteem them very highly in love because of their work.Be at peace among yourselves." – 1 Thessalonians 5:13
As Christians, do you think we would be described more as peacemakers today or complainers?
The Bible calls us to be at peace among ourselves and to pursue peace with others. To be the "peacemakers" so to speak. It all starts with the Cross. Christ has given us a peace that is above all understanding from what He did for us on the Cross, paying the penalty for our sins, and rising again. If He has given us this peace, how much more should we be at peace with others?
Today, who can you be at peace with?
This is also available as a Reading Plan on the YouVersion Bible App and at www.bible.com.
31 Days of Serving
Day 1 – Prefer
Day 2 – Devoted
Day 3 – Same Mind To
Day 4 – Build Up
Day 5 – Accept
Day 6 – Admonish
Day 7 – Sue 'Not'
Day 8 – Care For
Day 9 – Envy 'Not'
Day 10 – Truthful To
Day 11 – Kind To
Day 12 – Subject To
Day 13 – Regard
Day 14 – Lie 'Not' To
Day 15 – Bear With
Day 16 – Teach
Day 17 – Love
Day 18 – Comfort
Day 19 – Encourage
Day 20 – Peace With
Day 21 – Seek Good For
Day 22 – Pray For
Day 23 – Stimulate
Day 24 – Speak 'Not' Against
Day 25 – Complain 'Not'
Day 26 – Confess
Day 27 – Hospitable To
Day 28 – Serve
Day 29 – Humble Toward
Day 30 – Greet
Day 31 – Fellowship With