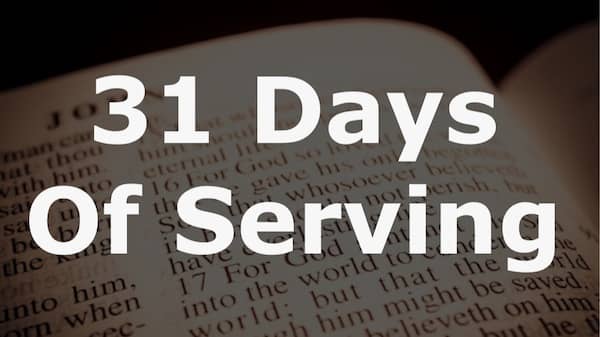 "And let us consider how to stir up one another to love and good works." – Hebrews 10:24
It is tough at times to "press on" or "strive" in our daily walk with Christ. A great thing about following Christ is that we don't have to do it alone. Actually, the Christian life is never meant to be spent in isolation. The Bible says we are all members of the body with Christ being the head, but we are all different parts meaning we will all work together with the different ways we are wired and gifted.
At times, we need to be stirred up and/or stimulated with encouragement from our brothers and sisters in Christ. We should always be considering how to do that for love and good works, and to give God all the glory.
Who can you stimulate today?
This is also available as a Reading Plan on the YouVersion Bible App and at www.bible.com.
31 Days of Serving
Day 1 – Prefer
Day 2 – Devoted
Day 3 – Same Mind To
Day 4 – Build Up
Day 5 – Accept
Day 6 – Admonish
Day 7 – Sue 'Not'
Day 8 – Care For
Day 9 – Envy 'Not'
Day 10 – Truthful To
Day 11 – Kind To
Day 12 – Subject To
Day 13 – Regard
Day 14 – Lie 'Not' To
Day 15 – Bear With
Day 16 – Teach
Day 17 – Love
Day 18 – Comfort
Day 19 – Encourage
Day 20 – Peace With
Day 21 – Seek Good For
Day 22 – Pray For
Day 23 – Stimulate
Day 24 – Speak 'Not' Against
Day 25 – Complain 'Not'
Day 26 – Confess
Day 27 – Hospitable To
Day 28 – Serve
Day 29 – Humble Toward
Day 30 – Greet
Day 31 – Fellowship With