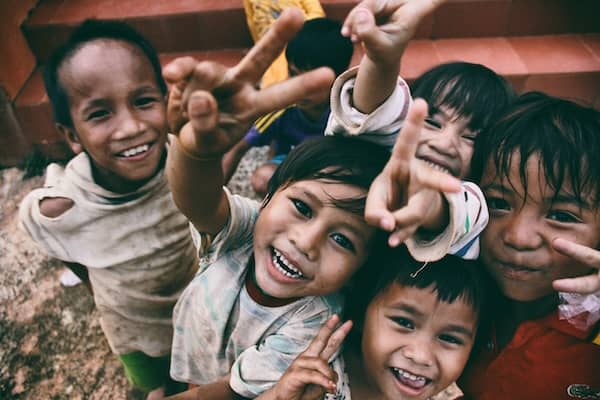 What comes to mind when you think of Children? Sometimes we have a hard time considering the fact that we are children of God. This can be for many reasons including struggling with earthly relationships here, but there's something beautiful about the dependency of a child on their Father or Mother.
We were never called to do this life on our own. We were never called to be an adult praising our "independence." In fact, we are called to let go control of our lives and be dependent on God, our Father, as His child.
It's incredible to think through Jesus, we can have a relationship with God and walk with Him day to day by the power of His Holy Spirit. We are in fact children of God after all, and He is our Good Father.
Here is what the Bible has to say with scripture on Children of God:
1 John 3:1-3 – See what kind of love the Father has given to us, that we should be called children of God; and so we are. The reason why the world does not know us is that it did not know him. Beloved, we are God's children now, and what we will be has not yet appeared; but we know that when he appears we shall be like him, because we shall see him as he is. And everyone who thus hopes in him purifies himself as he is pure.
2 Corinthians 6:18 – And I will be a father to you, and you shall be sons and daughters to me, says the Lord Almighty.
Galatians 4:6-7 – And because you are sons, God has sent the Spirit of his Son into our hearts, crying, "Abba! Father!" So you are no longer a slave, but a son, and if a son, then an heir through God.
Romans 8:14-15 – For all who are led by the Spirit of God are sons of God. For you did not receive the spirit of slavery to fall back into fear, but you have received the Spirit of adoption as sons, by whom we cry, "Abba! Father!"
Galatians 3:25-29 – But now that faith has come, we are no longer under a guardian, for in Christ Jesus you are all sons of God, through faith. For as many of you as were baptized into Christ have put on Christ. There is neither Jew nor Greek, there is neither slave nor free, there is no male and female, for you are all one in Christ Jesus. And if you are Christ's, then you are Abraham's offspring, heirs according to promise.
Ephesians 5:1-2 – Therefore be imitators of God, as beloved children. And walk in love, as Christ loved us and gave himself up for us, a fragrant offering and sacrifice to God.
Romans 8:16-17 – The Spirit himself bears witness with our spirit that we are children of God, and if children, then heirs—heirs of God and fellow heirs with Christ, provided we suffer with him in order that we may also be glorified with him.
Matthew 5:9 – Blessed are the peacemakers, for they shall be called sons of God.
1 John 3:10 – By this it is evident who are the children of God, and who are the children of the devil: whoever does not practice righteousness is not of God, nor is the one who does not love his brother.
What does the Bible have to say about other topics?
Feel free to add any additional Scripture to this topic by leaving a comment.