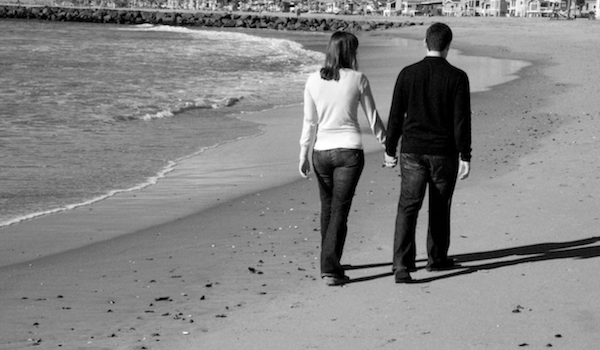 I have not been married very long, but something I have picked up is just how huge communication is. It's a big deal. Regardless of however long you've been married, you can probably agree with me on this. In our culture where everything is going on at a million miles per second (and that is not even including having a family), Joelle and I have to be incredibly intentional for communication to take place within our marriage, otherwise it just won't happen.
That being said, we decided to make a commitment to meet each week and discuss these 5 questions inspired by Today's Letters. It felt a little strange at first, but over time it became part of our regular rhythm and it has paid off in huge ways for us personally. I would suggest these questions to anyone who is married to improve communication and the quality of your relationship with each other.
We have this discussion every week at the end of the week and make it mandatory for us. Yes, we have had to delay getting a chance to discuss these questions every now and then, but we still make an effort to make it happen. Let me just make one point to husbands and wives real quick before I write out the questions.
Husbands: It is your responsibility to initiate this discussion each and every week. You are the head of the household and the Bible says you are to love your wife as Christ loved the Church (Ephesians 5:25-28). So when it's the end of the week and you're tired from work or other responsibilities and maybe don't feel like having this discussion, too bad. You need to act like a man, step up, and lead and love your wife. Outside of our own relationship with Christ, your wife is the next priority and comes first, even before you. Be honored and consider it a privilege that God sees you fit to lead and love your wife. The moment you consider these types of things to be "stupid" or "a pain," consider what Christ has done for you. Consider the Cross. Let Jesus humble you.
Wives: You need to pray for your husband. Believe that God can do a work in any man's heart to change him and lead him to be the husband Christ calls him to be. Be patient and gentle with him especially as he makes attempts to lead. Encourage him in this process. There is nothing more powerful than a wife who encourages her husband. At that point, he feels like superman and will have an even stronger desire to lead you and love you the way you deserve. When (not if) he falls short of leading (since he is not perfect), continue to encourage him and provide patience, he will eventually get back up and lead again.
Here are 5 questions to ask your spouse every week:
1. How Did You Feel Loved This Past Week?
Take some time to review your week's schedule. Sometimes when we discuss this question ourselves, we have to go through each day on our calendars to remember what took place. The cool thing about this question is that over time, you can start taking notes during the week of when these moments take place so you can look forward to sharing it when you meet with your spouse.
For both of you, also consider it an opportunity to learn more about your spouse and what areas you need to improve on to help him/her feel loved throughout the week. You actually get the opportunity each week to discuss how you felt loved so you know if you are both open and honest, you have plenty of opportunities with each other for encouragement and to share difficulties.
2. What Does Your Upcoming Week Look Like?
This is a great chance to now look at your calendar for the next week. Here, you can plan your date nights, family nights, review work and big projects happening that week, and let each other know what's on your plate. There may be one week where the husband has a heavy load, so wives…you may need to help him a little more often that week. Husbands, you get the opportunity to know what's going on in your wife's world, so that you can be sacrificial and help her in every area.
I personally have found that this question helps avoid surprises during the week (for the most part), and provides opportunities to be intentional and actually plan out your days and evenings.
3. How Can I Pray For You This Week?
Prayer is one of the most important things we can do for our spouse. It is also probably one of the most difficult things to do for most people because we let the day attack us and have its way with us. By the time we remember to pray about anything, we are often falling asleep. This question helps remind each other to be intentional about prayer, and it shows us how our spouse's walk with Christ is going.
There is something so incredible about humbling ourselves in our marriage. Admitting we can't do life alone and need prayer to draw closer to God and to each other. It creates a continued dependency on The Lord and both the husband and wife can come before God and present their requests. I would suggest not only discussing this each week, but make time to actually pray with each other, on the spot.
Prayer is one of the most important things we can do for our spouse.
4. How Would You Feel Loved & Encouraged This Week?
Similar to prayer, this question helps to make things very specific on how best to love and encourage your spouse. For example, Joelle can ask for prayer on opportunities to share the Gospel, but can also share that a way she would feel loved that week would be for me to spend more time with her. Or maybe I could leave her a simple note in the morning to encourage her throughout the day.
This question helps give insight and a tangible opportunity for us to love and encourage each other. Try to be as honest and specific as possible when answering this question.
5. How Would You Feel Pursued In Sex & Intimacy This Week?
This question felt a little strange (we laughed) at first, but got easier with each week that passed by for us. There were times it even felt a little legalistic, but what I love about this question is that it helps make sex and intimacy a priority. Your spouse might also surprise with you the answers.
Husbands, pay careful attention to this question. Again, it is your responsibility to continue pursuing your wife and if she is not feeling intimacy within your marriage, you need to address that and step it up. Likewise for wives, this is also a big deal for husbands so take him seriously with his answers.
---
Sometimes these conversations can last for 5 minutes, or for 45 minutes. Make time and be available for it to go either way. You never know what the next week will bring you. This is only one tool and I know there are many out there. At the end of the day, the point is to be able to have open and honest communication with your spouse. There is no other relationship here on earth (outside of your relationship with God through Christ) that is more important. Why not make every effort for improvement and to love each other?
You may take all 5 of these questions or just 1 of them to discuss each week. You may even completely change them and adapt them to be a custom fit to your own marriage. Whatever you do, at least make the effort to work on communication. Husbands, take the first step every week to work on your marriage. Wives, have patience and encourage your husband in this.
Wherever you are at, pray that the Holy Spirit will lead you in this process. Ultimately, seek to have a God glorifying marriage with excellent communication. That will speak volumes to a culture that does not value this. It will be an opportunity for you to share with others what Jesus has done for you and how salvation is available to all (Titus 2:11).
Questions: Are there questions you would add or take away from these? Do you have a set time each week to discuss these matters within your own marriage? Why not? Please comment below.