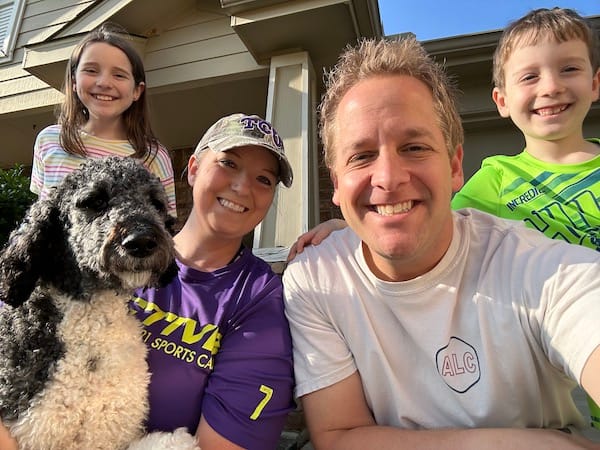 When I was growing up, my family tried to regularly attend Mass (Catholic church service) every Sunday and my brother and I were alter boys during that time. Our family of four was close and as a kid, life was spent going to private school, church, playing baseball, being outdoors, etc. all day long when we weren't doing other typical childhood things. Then when I was about 11 or 12, my parents ended up getting divorced, which was really hard on everyone. My brother and I ended up living with our Dad and we moved away to another part of town. That meant no more private school, no more church, changing friends, and more. Everything seemed to change overnight.
From that point on it was my brother, my Dad, and myself (us guys) living together for a long time. We lived in many different apartment complexes, had to adjust to public schools, and becoming a teenager. Over time, we ended up individually starting a relationship with my Mom and have had a great relationship ever since. I had a friend invite me to church when I was in high school which was a blast. I got to meet lots of friends, join the youth group, and even lead the youth group in various ways. However, by the time I was a senior in high school, church started to get boring and I wasn't getting anything out of it anymore so I decided to just stop going.
After graduating, I continued to work full time (which I've been doing since I was 15), and while working, ended up moving in with my brother because we wanted to be roommates and knew we would have fun with it. Life for awhile was working hard and playing hard, partying on the weekends and weeknights, and just having fun with anything that came my way. Partying never really appealed to me as much, but the friendships and community sure did so I went ahead and started getting involved in whatever was going on whether that be drinking, clubbing, or experimenting with drugs.
I always wanted to move away to California to act but couldn't afford to do so. Around this time my Dad got a job in Valencia, which gave me the opportunity to make the move if I still wanted to. So I jumped on it, packed up, and moved away from everything I knew in Texas to California to pursue acting. After arriving, I went full force into the industry – background acting, taking headshots, getting an agent/manager, networking, partying, working random side jobs to have money coming in, started auditioning, and landing roles. As all of this was going on I met a friend who invited me to her church called Cornerstone in Simi Valley.
It was here, that something changed for me. As I attended each Sunday, this wasn't like church when I was growing up or church when I was in high school. The atmosphere seemed different, the teaching introduced me to this "Gospel," something I had never heard. Maybe I had heard it before but there was something different this time because this guy, Francis Chan, was telling me of my need for Jesus and how I could know Him personally. I figured I already knew God because of my past (being an alter boy, leading in a youth group, etc.) so anything I did in life, I would just tell people I was a "good" person and I was a "Christian." After attending for awhile, I came to the conclusion that I never understood that Jesus died for me.
I realized that this whole time I had never read any of the Bibles given to me or ever really prayed, unless I was instructed to do so. When I started to actually do this, it was like what I was reading was translated into my own language, where everything made sense and I couldn't stop reading it. I decided to accept the free gift of having a relationship with God through Jesus because of the fact He paid the penalty for my past, present, and future sins by coming to earth, living a perfect life, dying on the Cross, rising again, and defeating death in victory! I decided to get baptized and ever since that time in my life, I know for a fact I am a Christian.
"I already "knew" about God and assumed I was a Christian, but never understood Jesus actually died for me."
After becoming a Christian, God changed my perspective from where I was going with acting and showed me it wasn't in my heart to continue acting. Though I had just started to act for a living, I decided to stop and move away. If I wasn't going to act, what would be the point of continuing to live in California anyway (talk about expensive!). Looking back, I can see how God was directing me as I left California. Before coming back to Texas, I lived in Tennessee for a year as I believed that was where God was leading me to go with the same friend who invited me to church. However, what I now know is conviction, I felt for one of the very first times in Tennessee as God was gracious to both of us eventually leading to a breakup and us going in different directions.
He led me back here to Texas and within 24 hours of arriving, one of my closest friends invited me to 121 Community Church where I have been ever since. I immediately plugged in, got involved in a LifeGroup, and have been privileged to work on Staff there for the past few years. Each day I continue to see just how truly sinful I am and that I am for sure the most sinful person I know. What makes this so beautiful is that the Cross gets bigger each day for me as I continue to see just how holy and perfect God is, and how sinful I still am. Nothing I can do will ever get me right with God and it is only because of His perfect Son, that I can have a relationship with Him. My gratitude increases everyday as the Cross gets bigger.
As of today, He has blessed me with a beautiful and wonderful Godly wife, and an amazing daughter and son. It is an honor to be a husband and father. I wouldn't be able to love them without God's help because like I mentioned before, I can be a pretty sinful and selfish guy. But my gratitude grows and my wife gives me so much grace and forgiveness in those areas. I will continue to press on to see what the Lord has for me and how best I can serve and glorify Him in everything I do.
So there is my story, what about yours? Feel free to contact us or comment below. Do you know Jesus? Do you know that He personally died for you?
---
Do you have a story you would like to share with us? Comment below or write us a post. To see other stories, click here.