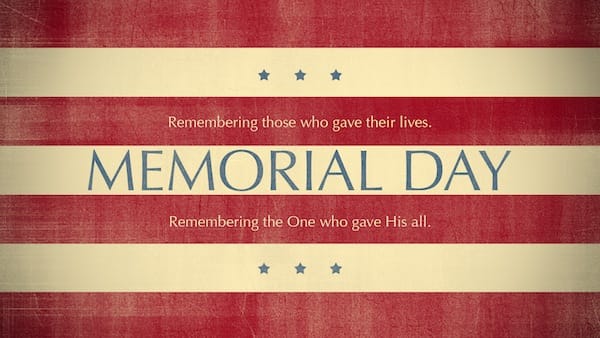 This Memorial Day, let us remember those who gave their lives for serving our country, and remember the One who gave His all.
This time of the year affects everyone differently. Maybe you serve our country now or you used to, maybe you have family members or friends involved in serving, or maybe you just get a three day weekend and don't really care. However Memorial Day affects you personally, be encouraged to reflect on those who have served us, and most of all, the One who has given us everything.
Let's take this opportunity to point to the Bible and read Scripture on Memorial Day. I pray it serves as an encouragement for everyone and maybe you can share these passages with someone who is serving or who has served our country.
Let's remember those who gave their lives for all of us, and remember the One who gave His all.
1 Corinthians 16:13 – Be watchful, stand firm in the faith, act like men, be strong.
John 15:13 – Greater love has no one than this, that someone lay down his life for his friends.
Psalm 116:15 – Precious in the sight of the Lord is the death of his saints.
Psalm 34:18 – The Lord is near to the brokenhearted and saves the crushed in spirit.
1 Thessalonians 4:13-14 – But we do not want you to be uninformed, brothers, about those who are asleep, that you may not grieve as others do who have no hope. For since we believe that Jesus died and rose again, even so, through Jesus, God will bring with him those who have fallen asleep.
Isaiah 54:10 – For the mountains may depart and the hills be removed, but my steadfast love shall not depart from you, and my covenant of peace shall not be removed," says the Lord, who has compassion on you.
Romans 13:7 – Pay to all what is owed to them: taxes to whom taxes are owed, revenue to whom revenue is owed, respect to whom respect is owed, honor to whom honor is owed.
Revelation 14:12 – Here is a call for the endurance of the saints, those who keep the commandments of God and their faith in Jesus.
John 14:27 – Peace I leave with you; my peace I give to you. Not as the world gives do I give to you. Let not your hearts be troubled, neither let them be afraid.
Revelation 21:4 – He will wipe away every tear from their eyes, and death shall be no more, neither shall there be mourning, nor crying, nor pain anymore, for the former things have passed away.
What does the Bible have to say about other topics?
Feel free to add any additional Scripture you want to this topic by commenting below.