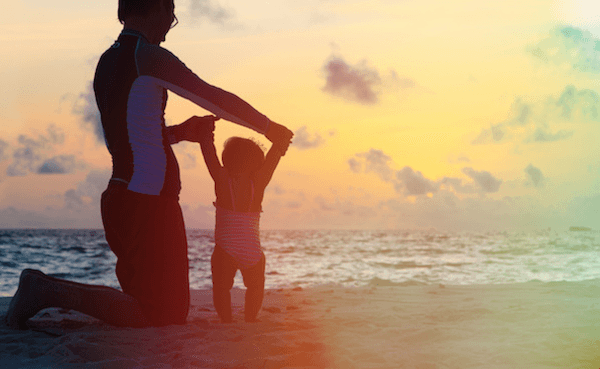 I was considering writing another sinful confession, but I wanted to change it up this time. Instead of just writing about it, I wanted to provide some practical ways to repent of it and encourage you to do the same if needed. God has recently done some work in my life to reveal to me just how much I have not been leading my family spiritually. Yes, I might be working hard and providing for them…yes, I might not be doing anything terrible against them…yes, I do love them very much, but, I haven't been leading them to The Lord and that is one of the worse things I could do to them.
I've been taking them for granted and chalking up the "little kid season" to "I"ll get to them at a later season," which has snowballed into….me doing nothing, really. As I confessed to The Lord and to them, I started to pray and considered what I could do to get started, again.
In my experience, it seems like whenever men are talking about leading their families spiritually, most believe it is a daunting task, but whoever said it has to be? Why do we buy into this lie to begin with? Why would we think God would call us to do something that He hasn't already equipped us to do by the power of the Holy Spirit?
God knows exactly who is in our family and why they are in our family. We can't see all the reasons behind everything that takes place (thank goodness because we couldn't handle it), but God has a purpose and will use any circumstance or person to bring Him the most glory. Your wife is the one and only person God has called to be your wife for a very specific reason. The same thing goes for why you have the specific kids you do. That means…they need the very specific father and husband that God is calling you to be to them for a reason.
You are God's Plan A for your family.
These are 5 simple ways to lead your family spiritually. If you aren't doing anything, then make a change now and get started. There's no excuse to not spend time doing the most important thing you could do for your family.
1. Pursue The Lord Yourself
It all starts with your own relationship with Jesus. If you aren't cultivating a relationship with Him, not only will you not lead your family, but you won't know how to. Spending time with The Lord daily through prayer and reading the Bible is crucial if you want to lead your own family spiritually. You simply can't do it without Him.
Make the effort (even renewed effort if needed) to get started on this now. Even reading this post, The Lord is leading you to do something, so stop delaying what He is calling you to do and start obeying.
2. Pray Before You Leave
This one has been huge for me and I believe will be huge for you as well! This is very practical and just involves you taking the opportunity to pray over your family before you walk out of the door for the day. This is the best way to protect and provide for your family while you're not physically at home.
Not only that, but you'll set the tone for your family for the day for their focus to be on God instead of their focus being on worldly matters and as an added bonus, it sets the tone for you as well as you leave the house. It's a great feeling to leave your home knowing you have started to lead them well that day and will fuel you up for whatever comes next.
3. Act Like A Man
Be watchful, stand firm, act like a man. Have integrity in all matters in and outside of the home. Leading your family isn't just about what you do when your with them, but it's about what you do 24/7.
You're fooling yourself to think that you can fake it in front of your wife or children. They notice. They see. They know exactly the type of man you really are at the end of the day. Unfortunately, if you're not living out your identity in Christ, it'll be nearly impossible for them to come close to that, BUT, if you are leading them spiritually, it'll be nearly impossible for them to not be effected by the love of Christ shown to them through you.
Be watchful – Look out for every opportunity to lead them and point them to Christ.
Stand firm – Protect them and guard them against the powers of this world.
Act like a man – Be the man God has called you to be and don't let culture dictate who you should be.
"Be watchful, stand firm in the faith, act like men, be strong. Let all that you do be done in love." – 1 Corinthians 16:13-14
4. Engage Your Wife and Kids
Men, it takes time to invest in your wife and kids and when you're exhausted at the end of the day, you still don't deserve the "right" to be a slug on the couch. I know this because I've experienced it myself one too many times after a long day.
Instead, you should bring your highest energy and best attention to your wife and kids each day.
Talk with your kids, ask them questions, show that you care and want to spend time with them. Don't worry about work or any of your hobbies, they mean nothing at the end of the day when compared with the importance of your family. Spend time with your wife after you put the kids down to sleep, ask her questions, engage with her emotionally, don't take her for granted since she is the other adult in the relationship. It's not 50/50, it's you sacrificially being "on" 100 percent of the time, which still doesn't even come close to how much Jesus has sacrificed for you.
5. Pray Before You Sleep
As you end the day, pray over your family before you go to sleep. Pray for what has gone on through the day and confess, if necessary, to The Lord where you have fallen short. Pray for protection for your family even through the night and through their dreams. Pray for The Lord to continue to do a mighty work in all of them, whether that be to bring them into a relationship with Him or to continue to sanctify them.
Prepare yourself for another day, if the Lord blesses you with one, to make it all about Him. Consider walking through these 5 ways again to lead your family the very next day.
As men, we have the tremendous opportunity and privilege to lead our family. Praise God that He has provided you with one and seek to be obedient in the way you care for them and help draw them closer to the Lord, one day at a time.
Question: How do you lead your family spiritually? If you haven't been leading them, will you start now? Please comment below and join the discussion.