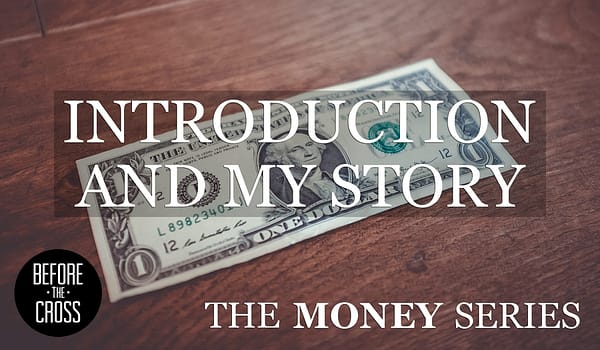 Over the past decade or so, I've found myself having a huge passion for money. Not the love of money, but the power behind money and what it can accomplish in our lives. I've walked with people who have no idea what money is and have no plan, therefore absolutely hate talking about money and the topic of it depresses them. I've walked with people who have plenty of money, more than they'll ever need, but have no intentional plan with it, and they also don't like talking about money. And then I've walked with people that regardless of the amount of money they have, they have a plan, and they are content with the topic of money.
My personal journey with money has been a difficult road. A road that started with nothing, then everything…all the way to bankruptcy, hitting rock bottom, then starting again on a new foundation with new principles. A foundation and a set of principles that have had tremendous success over the past decade and the more people I walk with, I'm convinced we all still need help in how to manage money. More importantly, how to manage God's money.
In The Money Series, my hope is to share and teach on what money is, how to make a budget and why, what exactly tithes and offerings are, the emphasis of paying off debt, building a savings and retirement, and continuing to grow in generosity. My hope is that it would encourage you and teach you how to build a financial foundation, based on principles from the Bible, on how to manage God's money. There are other resources out there and I support quite a lot of them, and at the same time I feel convinced and convicted to share this money series along with my story. For the Glory of God and for the good of others.
---
I grew up in a household where money wasn't really talked about that much when I was a kid. Looking back, our bills were paid and we had food on the table, for which I'm very grateful for. My parents worked hard to provide for my brother and I and while I remember hard work, I can't recall anything I learned about money.
After my parents divorced and as I became a teenager, I was introduced to money by the thought of getting my first job, driving my first car, and paying my bills along the way. I learned that you get a job, work, and then receive money! At that age that idea astounded me and I thought, "Heck ya, let's go get some money!" In that same season, my Dad drove into me the principle of "establishing my credit." And while I believe his intentions were great and he was trying to prepare me, this is where things got bad for me personally with money. As a teenager, when you hear that you can go apply for credit cards and personal loans and that they will give you a lot of money, and then you only have to pay back a little bit, you hear "what a great deal! I can get all this money and barely pay any of it back!" So that is exactly what I did.
I "established my credit" alright, all the way up to thousands and thousands of dollars in debt. That mindset carried me through many years of living off of my credit cards and loans and everyone I met was in debt too so I figured this is how the "real world" lives financially, so I never really second guessed any of this. Eventually I got into debt so bad that I had to file for bankruptcy. And this is where I hit rock bottom.
It is an incredible feeling of failure to experience walking in a room, and with multiple people present, confessing that you can't pay back what you owe. To admit your own faults and to take the penalty of bankruptcy…it's a feeling I will never forget and a feeling I wish no one ever has to experience in this life.
I hit rock bottom and I realized what I knew financially was wrong and I didn't have a plan.
After that time period, my "plan" in terms of managing my money was this:
-I would log into my bank account.
-I would view what my available balance was.
-And depending on the amount that was in there, that determined my mood about money.
If it was a high amount, I thought to myself "Sweet, I have plenty of money."
If it was a low amount, I thought to myself "Dang, I never have enough money."
And then I'd go from there and spend the money. I didn't spend or drive up credit in the way I previously did as a teenager, but looking back I'd say my "plan" of viewing my bank balance was no plan at all. It was just a reactive way to look at money.
No wonder most of us don't like talking about money, we don't really know what it is, why we have it, or what to do with it.
Awhile after this time period, I became a believer.
A friend invited me to go to a financial class and I figured I don't really have a plan anyway, plus they gave away free food, so it couldn't hurt, right?
After that class, I was introduced to some foundational principles about money from the Bible and while I didn't understand everything that was presented, it intrigued me to find out more. Besides, what do I have to lose…I already filed bankruptcy in my past and I only looked at my bank balance to see how much money I had…the thought that there was another way, a better way, intrigued me so I started down that path.
---
Let me preface this entire series with the fact that I am not the expert. I am not officially giving you advice and telling you what you must do with your finances. I'm simply here as a guide and want to share what I believe the Bible has to say about managing God's money and share what we personally do so that it would be an encouragement for you.
So now, over a decade later, after years and years of searching the Bible, getting multiple pastors and counselors to help, walking with old and young friends, watching videos and reading books, and applying what I've learned into our financial picture, I can tell you there IS a way to manage God's money. There IS a way to be intentional with your money and not live paycheck to paycheck. There IS a way to have zero debt and to have savings and retirement. There IS a way to grow in generosity, tithe, and give to others whenever the opportunity arises. There IS a way to go from hating talking about money, to loving to talk about money. Most of all, there IS a way to glorify God with your money and find financial freedom!
This is what I want to share and why I want to share it with you. I want you to find the same financial freedom I have found, and to glorify God with your money.
This is The Money Series.
Call To Action
Get started on learning about money, making a budget, and other steps by clicking here.
---
The Money Series
The Money Series on The Bible App