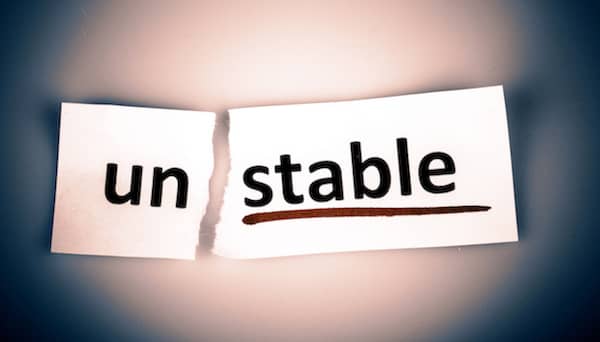 When trials hit our lives or when it seems everything around us is falling apart, we as Christians need daily reminders to be stable. Having stability as a follower of Christ proclaims a lot to an unstable and sinful world. On the flip side, when we are unstable, we are forgetting who is on the throne.
If God, who is the creator of everything, can actually have a relationship with us because of what Jesus did for us, then surely we can find stability in Him. He is the reason we can be stable. He is the One who is at work, at all times, in all circumstances, and never becomes unstable.
Anxious of your future?
Thinking our country is headed in the wrong direction?
Worried about your kids or your family?
Struggling in your own personal relationships with others?
Obsessed with the balance of your bank account?
Whatever it is in your life that is leading you to think you are unstable, will never overtake God. While there are difficult circumstances to go through, you can trust in the One who is stable, to lead you through it. The more we can look up to God, and not look to ourselves, the more stable we will become.
Here is what the Bible has to say with scripture on stability:
Psalm 16:8 – I have set the Lord always before me; because he is at my right hand, I shall not be shaken.
Psalm 37:23-24 – The steps of a man are established by the Lord, when he delights in his way; though he fall, he shall not be cast headlong, for the Lord upholds his hand.
Psalm 62:1-2 – For God alone my soul waits in silence; from him comes my salvation. He alone is my rock and my salvation, my fortress; I shall not be greatly shaken.
1 Corinthians 15:58 – Therefore, my beloved brothers, be steadfast, immovable, always abounding in the work of the Lord, knowing that in the Lord your labor is not in vain.
1 Peter 5:10 – And after you have suffered a little while, the God of all grace, who has called you to his eternal glory in Christ, will himself restore, confirm, strengthen, and establish you.
Proverbs 10:9 – Whoever walks in integrity walks securely, but he who makes his ways crooked will be found out.
Psalm 116:8-9 – For you have delivered my soul from death, my eyes from tears, my feet from stumbling; I will walk before the Lord in the land of the living.
1 John 2:10 – Whoever loves his brother abides in the light, and in him there is no cause for stumbling.
Psalm 103:19 – The Lord has established his throne in the heavens, and his kingdom rules over all.
Isaiah 35:3-4 – Strengthen the weak hands, and make firm the feeble knees. Say to those who have an anxious heart, "Be strong; fear not! Behold, your God will come with vengeance, with the recompense of God. He will come and save you."
Jude 1:24-25 – Now to him who is able to keep you from stumbling and to present you blameless before the presence of his glory with great joy, to the only God, our Savior, through Jesus Christ our Lord, be glory, majesty, dominion, and authority, before all time and now and forever. Amen.
When we look up to God to lead us instead of ourselves, we find stability.
What does the Bible have to say about other topics?
Feel free to add any additional Scripture to this topic by commenting below.